The Day Before Xmas Eve! (TDBXE...)
(Blog Update For 23rd December 2008)
Yes, you got that right!!! - The title for my blog update is suppose to copy "TDTESS - The Day The Earth Stood Still" - but as always tak jadi... hahaha! Merry Christmas to you my friends who are reading this! 
Updating my blog takes some time - but what makes it more special is that you guys are still here waiting patiently for the updates! Cheers buddies... :) 
Anyway - last tuesday night! Decided to have a small get-together with a couple of friends to pass'em their Xmas present that i got from Singapore! Yes yes, this year Santa Clause is early and i'm not even dressed up in RED - however am carrying BLUE paperbags from Takashimaya @ Singapore. 
Thanks to Jon Ming, Hann Tsong, Joey, Joveena, Kevin and Nico for coming here on this night! Really appreciate you all taking time out from your busy schedule! 
This year's theme on Xmas presents for me is - presents that suits your needs! (not your wantts!). Yes yes... what you get this year is what you really need! Check it out...
Heheh all items purchased in Singapore including the Moleskine Diary 2009 for Joey, SANYO 2700 mAH Rechargeables for Jomi, Jack's MUG for Jack (Californian Design, painted in Singapore), and many others... (OMG - you know how nervous i was passing through customs on the night i came back to KL!).
That's Jon Ming aka Jomi & Hann Tsong! (I think sooner or later i have to award Jomi for "FACE OF THE YEAR" award!) I think that time should be NOW!
But after seeing this picture! DUDE...how far can you stretch out your tongue wei! - menakutkan aku!!!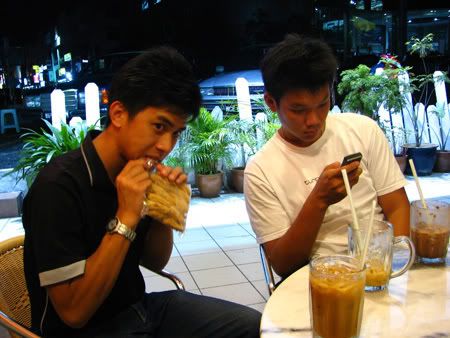 You know what Jomi, you should keep your mouth just for eating! Yep special food packed from Kelantan! 
Time for some presents! Got some presents from Singapore to be given away!!!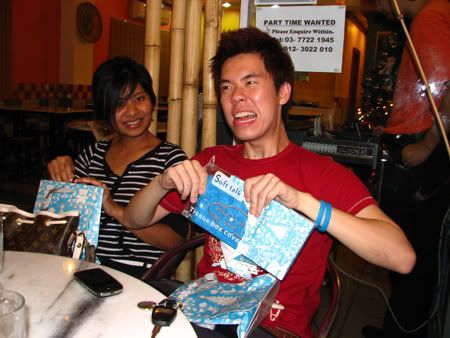 Kevin - tak sabar-sabar to open his present! Hehehe...
Joveena, Kevin and Joey - his preferred color is RED! Favourite color is RED! Blood color oso RED! :P
Nico - from Nottingham University! Wah lao eh... lama tak jumpa nico!
Jomi, Me and Hann Tsong! Cheers bro for the present! :)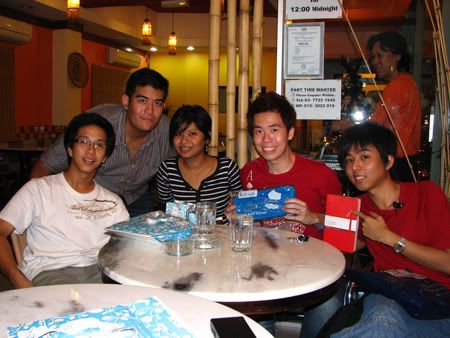 The team - "MES AMIS", we travelled half way across Malaysia on a treasure hunt expedition trip! It was GREAT!
The day / night before Xmas Eve! Leaving everyone tonight happy...!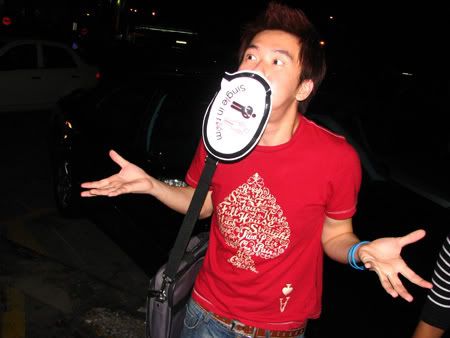 Except for Kevin having to help Nico blow this ballloon...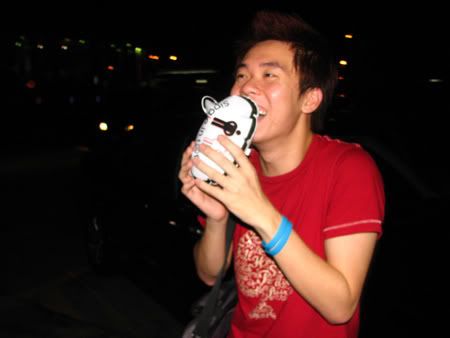 Yes it worked Kevin! Hehehe no need to blow so hard later that ting xplodes!!!
What a better way to use presents as props! :P
I really don't get it! How's this picture suppose to sound?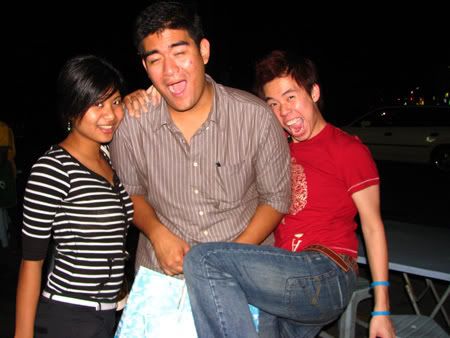 SOUNDS LIKE OUCHHHH.... my TRA LALA!!